Pregnant In My Heart
Home page
NEW! Tell the world
you are about to
be a mom
through adoption
with our new
Pregnant
in My Heart
T-Shirts
and other fun products!
Check it Out Now!

Great gifts for a
Mom-In-Waiting!
ALSO GREAT FOR ALL ADOPTION ADVOCATES!
Let's Get the Word Out About Adoption Together!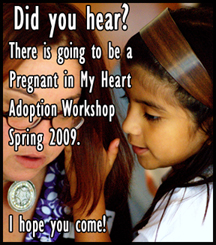 ________________
CLICK FOR ADOPTION RESOURCES
NEW! Check Out Our
New Adoption Store!
Visit the Pregnant in
My Heart BLOG!
Thank you for supporting our first
Pregnant in My Heart Adoption Workshop
October 4, 2008 from 9-Noon
IT WAS A WONDERFUL TIME!


Our desire is to Equip those who want to adopt, Support those who have adopted
and Ignite those who are ready to make a difference in the lives of hurting children.
This adoption workshop was FREE and open to the public. This workshop will be the first of many times that Pregnant in My Heart will join with other groups (such as Mei Ming Adoption and Orphan Ministry) to help create a place for adoption agencies, support groups, social services, adoptive parents, adoptees and those seeking information on adoption, foster care and orphan support to come and gather together!
Interested in being involved next time? Please let us know! Call Lisa at 757-777-6946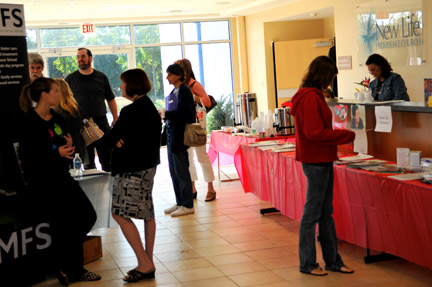 There is a great need for answered questions, fears eliminated, and support offered on this journey. Our heart is to come alongside those already out there making a difference by uniting the journeys.

YOU ARE NOT ALONE!
PLEASE WATCH FOR OUR NEXT WORKSHOP in the SPRING of 2008!
By request, it will be longer and offer more resources than our first workshop!
You won't want to miss it - Plus, watch for mini workshops coming soon!
| | | |
| --- | --- | --- |
| | | |
We will continue to:

- Answer the How? and the Who?
of adoption/foster care

- Gather information on adoption and foster care

- Connect with others who understand your journey

- Offer a panel to share their hearts on adoption and foster care, available options & God's Heart on Orphans

- Provide a way for you to ask questions
(and get answers!)

- Generate ideas for involvement

- Provide resource tables

Panel shares their heats and answers difficult
questions about highly emotional issues...

Come gather information about adoption, foster care and orphan relief. Remember, this is not simply a place for those interested in adopting or providing foster care. We want to educate you on orphan relief and teach you about hurting children, domestically and abroad, who need homes that are full of life and love so that you can make a difference.

Tell someone. Start a group in your church or community. Foster a child. Adopt a child. Parent your adopted child from a place of knowledge and love. Support an orphanage. Pray for change.

Make a difference in the lives of hurting children
however you can.

Equipping - Supporting - Igniting
Hearts for hurting children!

WATCH FOR OUR NEXT ADOPTION WORKSHOP IN SPRING 2009!

YOU WON'T WANT TO MISS IT!

This Pregnant in My Heart Adoption TM Conference
was Sponsored by www.PregnantInMyHeart.com,
Mei Ming Adoption and Orphan Ministry and The Heart of a ParentTM